Take a proactive approach TO managing your garden and landscape
The photo shows a diverse garden with vegetables and flowers with a diversity of plants growing together.
Many people want to manage their garden and landscape plants using non-chemical methods (no pesticides). Pesticides are products designed to kill weeds, mosses, insects, plant diseases, slugs, and rodents.
About Organic Pesticides
Organic does not mean pesticide-free. Organic pesticides are widely available.
Organic pesticide products are derived from plant, animal, and mineral sources. Common examples include neem oil, insecticidal soap, Bacillus thuringiensis (Bt), and copper fungicide sprays.
Organic pesticide products still have risks. Read and follow the label instructions to minimize risks and maximize benefits.
For more information, see Organic Pesticide Products.
Jump To
Overview
Plants in your garden and landscape are vulnerable to insect pests and plant diseases.
Healthy plants resist pests and diseases. Stressed plants are more prone to problems.
Provide plants with the right growing conditions (soil, sunlight, water, fertilizer, and pruning).
Exclude pests from vulnerable plants with insect screening, row cover fabric, fencing, netting, and other methods.
Keys for Success
Choose plants to match your Plant Hardiness Zone and growing conditions.
Choose plants that are resistant to relevant pests and diseases for your area.
Plant healthy plants. Provide them with correct care, including soil preparation, fertilizer, water, and pruning.
Grow many kinds of plants together. A diversity of plants reduces the impact of pests and diseases.
Watch for insect pests and plant diseases. Address them before they become bigger problems.
Encourage wildlife such as birds, and beneficial insects such as ladybugs. These predators eat pest insects such as aphids.
Right Plant, Right Place, Right Care
Choose plants suited for the conditions of your worksite. Install the plants in optimal soil and optimal sunlight conditions. Give your plants the care they need over time.
USE PLANNING METHODS BEFORE YOU PLANT
Choose plants that can survive the winter low temperatures where you live. Match your plants' cold hardiness rating to your worksite.
Locate plants in places that provide the right amount of sunlight for the plants' needs.
Install plants in places with the soil drainage conditions that support plant root growth.
Blueberries, vegetable crops, and many ornamental plants are pH-sensitive. They require the right soil pH to thrive. Test soil pH before installing plants. Adjust the soil pH to meet the needs of the plants you will grow.
CHOOSE PLANTS THAT ARE COLD-HARDY FOR YOUR AREA; Expect aberrant weather
PLACE PLANTS IN THE RIGHT SPOT FOR SUNLIGHT
Different types of plants have different sunlight needs.
Determine the sunlight needs of the plants you want to grow. Check the plant tag or ask nursery staff. Or look up plants' sun needs in books such as Sunset Western Garden Book  (Sunset Publishing Corporation).
Then think about the sunlight needed in the context of where you are in the Pacific Northwest. For example, is your worksite on the coast, mountains, or warm inland areas?
Place plants in spots that provide the right amount of sunlight according to your worksite and regional environment.
MATCH PLANTS TO THEIR PREFERRED SOIL DRAINAGE CONDITIONS
Soil drainage refers to how water moves across, through, and out of soil due to gravity.
Soil drainage is determined by soil pore size and soil texture (proportion of sand, silt, and clay), depth of the soil, and the slope of the area. Water moves more quickly through sandy soils compared to clayey soils.
Different types of plants require specific soil drainage conditions to thrive.
If you have an area with slow drainage, choose plants that tolerate wet soil conditions.
Improve soil drainage if you want to grow plants that require well-drained conditions.
ADJUST SOIL pH BEFORE PLANTING AND MAINTAIN IT
Test the soil pH before investing in plants for your garden or landscape.
See How do I test my garden soil  (OSU Extension Service) for more information.
Blueberries, vegetable crops, and many ornamental plants require a specific and narrow soil pH range to thrive. Amend the soil as needed for your plant.
Vegetable crops grow best in soils with a pH range from 6.0–7.0.
Blueberries and rhododendrons thrive in soils with a pH range of 4.0–5.5.
Adjust the soil pH as needed. Follow the recommendations from the soil test (if available). Use Soil Test Interpretation Guide  (OSU Extension Service) to determine application rates.
Use agricultural lime or dolomite lime to increase soil pH.
Use elemental sulfur to lower soil pH.
Add these amendments before planting. Amending in advance allows the materials time to change the soil pH before you plant.
Regularly test the soil pH if you grow pH-sensitive plants. Add lime or sulfur as needed to maintain the optimal soil pH.
Plants grown in soil with the correct pH will not have pH-related nutrient deficiencies. They will also be less prone to damage from insects and diseases.
More About Blossom End Rot
Annual vegetables grow best in soil with pH of 6.0–7.0.
When soil pH is outside this range, vegetable crops fail to thrive.
Adding lime to acidic soil helps to increase the soil pH and the tomatoes' nutrient uptake. The lime also provides calcium.
Add lime before planting tomatoes and similar crops.
Fall is the best time to apply lime. It takes time for lime to change soil pH.
SELECT PEST- AND DISEASE-RESISTANT PLANTS
Choose plant varieties that are resistant to locally relevant pests and diseases. You can avoid plant loss by choosing pest- and disease-resistant varieties of desired plants.
Look for pest- and disease-resistant varieties of roses, rhododendrons, and apples.
More about Apple Scab
Wet springs experienced in areas west of the Cascade Mountain range promote plant diseases such as apple scab.
Growing apple varieties prone to scab is challenging in these areas. Fungicide treatments are needed to grow quality apples for varieties that are susceptible to scab in these areas.
Avoid apple scab by choosing resistant varieties. See Apple Cultivar Susceptibility  (PNW Plant Disease Management Handbook).
SELECT HEALTHY PLANTS
Inspect plants before you buy them.
Make sure the foliage, stems, and roots are not damaged.
Check for insects, diseases, and weeds.
Look at the roots of container-grown plants, when possible. Is the plant root-bound?
Healthy plants in your garden and landscape are less prone to damage from insect pests and diseases.
What to Do about Root-bound Plants
For root-bound perennial plants, score the roots and tease them apart before planting.
After the roots are scored and separated, prune stems and leaves to roughly match the amount of undamaged roots.
These steps help the roots to grow into the worksite soil.
Soil Preparation, Planting & Care
PREPARING SOIL FOR PLANTING
Planning and action will ensure the successful establishment of plants in your new landscape areas.
Add and mix compost and amendments into soil before you install landscape plants.
Spread 3-4 inches of compost on the area you intend to plant.
Mix it in as deeply as possible with a fork or shovel. Or use a rototiller to mix the compost into the soil.
Then dig holes. Install plants into the amended soil.
Before Digging, Contact Your Local Utility Locate Service
For large areas or compacted soil, consider using heavy equipment to prepare the site. Before you dig, contact Oregon 8-1-1   or Washington Utility Notification  or your state's utility locating agency.
Detailed instructions How to Plant Trees & Shrubs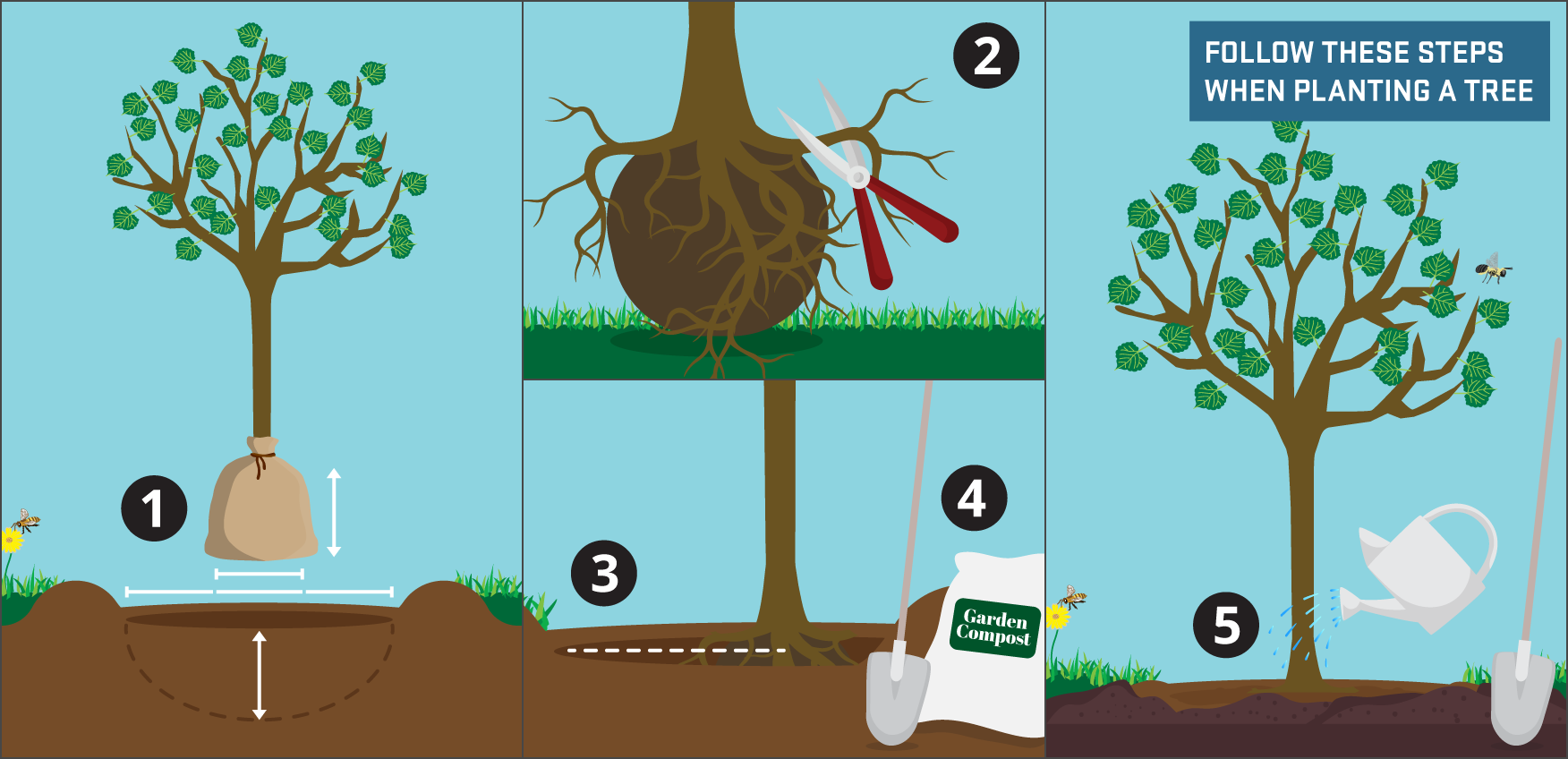 Scott Benish
Follow these stems when planting a tree:
Dig a hole 2–3 times the diameter of the root ball. It should be no deeper than the height of the root ball.
Loosen or cut any circling or upward-growing roots. These roots cause poor growth. While planting, remove excess potting soil to expose the root system.
Place the tree or shrub in the hole so the tops of the roots are slightly above soil level. For grafted trees, make sure the graft junction is at least 1 inch above the soil line.
Amend the dug-out soil with compost and other amendments as needed. Fill the hole with the amended soil. Don't fill the planting hole with pure compost or potting soil.
Water the roots in thoroughly. Place mulch over the root zone, but not piled against the trunk.
Avoid planting root bound plants as shown below.
PROVIDE YOUR PLANTS WITH THE RIGHT CARE
Provide plants with enough water.
Use N-P-K or other fertilizers to provide plant nutrients as needed.
Use mulch to help conserve water and keep new weeds from growing.
PROVIDE WATER AS NEEDED SEASONALLY
Drought-stressed plants are prone to pest and disease problems.
Provide your plants with the water they need to grow properly.
Water plants deeply to encourage robust root systems. Don't over-apply water. Soggy soil can lead to root rot diseases.
PROVIDE FERTILIZER AS NEEDED
USE MULCH TO CONSERVE WATER AND SUPPRESS WEEDS
USE SANITATION METHODS
Prune or dispose of plants damaged by pests and diseases.
Remove weeds growing around your desirable plants.
Keep your tools clean. Sanitize following pruning of diseased plants as needed.
Use crop rotation in vegetable gardens and orchards to avoid the accumulation of soil-borne pests and diseases.
GOOD HYGIENE METHODS FOR PLANTS WITH PEST AND DISEASE PROBLEMS
CONTROL WEEDS AROUND DESIRED PLANTS
ROTATE CROPS FOR VEGETABLE GARDENS
More About Crop Rotation
Growing vegetable crops repeatedly in the same space will lead to pest and disease problems.
Rotate vegetable crops. Grow plants that share diseases in different places each year.
This method prevents soil-borne pest and disease accumulation.
Use Physical Barriers and Hands-on Methods
Use barriers to keep pests away from desired plants.
Catch pests and diseases early, before problems get worse.
BARRIERS TO PROTECT PLANTS
More BARRIERS TO PROTECT PLANTS
Row covers prevent pests and pollinators from reaching the flowers. Remove covers from crops such as tomatoes and squash when flowering begins.
Check plants under row covers to make sure pests are not present under the cover.
Use netting and fencing to keep animals away from plants, as needed.
MANUAL CONTROL, TRAPS & WATER SPRAYS
Manually remove insect pests from desired plants. Look on the undersides of leaves to find aphids and insect larvae.
Trap slugs and snails with beer or board traps.
Use a high-pressure water spray to knock insect pests off plants.
PRUNE OUT INSECT DAMAGE AND DISEASED BRANCHES
Remove insect damage and diseased tree and shrub branches. Pruning keeps insect pests and disease problems from spreading.
TILLING to disrupt soil insect life cycles
Till soil to disrupt soil-borne pests such as slugs and snails, cutworms, and symphylans.
Rototilling disrupts the life cycle of soil-dwelling pests. It kills, buries, or exposes them to predators.
However, repeated tilling can damage soil structure and beneficial organisms. Tilling may bring weed seeds to the surface, creating another problem.
vacuum to remove nuisance insects from your structures
Boxelder bugs and brown marmorated stink bugs (BMSB) are known to congregate on structures. Large numbers of insects sometimes gather in and around structures from fall through early spring. Insects seek sheltered locations to overwinter.
Non-Chemical Pest Control References